5:56 AM
The Shredder , Posted in
Hate Hate Hate
,
0 Comments
Alright I know a lot of UM fans are hating folks so I figured I would measure the Hate! Hate! Hate! with my Hate-0-Meter. People who would have been on this list in the past include Morgan Trent,Gabe Watson,Jim Herrmann,All 2008 QBs ect...
Alright these four guys are taking a lot of Hate right now from the Michigan fan base.
1
.
B
oubacar Cissoko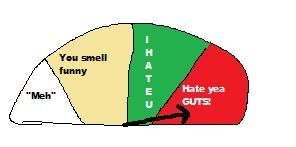 -
Between getting torched in the ND game by a stud NFL prospect and
getting pulled during the Indi game Boo boo hasn't helped his stock much. I will say he has
struggled but he is taking a lot of heat right now from the Michigan faithful and I don't feel it's
very fair. He is almost up to Morgan Trent hate with a lot of fans and they just need to give the
kid a chance. CB is hard position to play, maybe one of the hardest and he is a true Sophomore.
I always say you really shouldn't take much heat unless you are a JR or SR. He only has
a hand full of starts under his belt, so lets be patient and not black ball Boo boo just yet.
As you can see the Hate-o-Meter is at it's highest level of "I hate yea GUTS!" for Cissoko.
2.
Obi Ezeh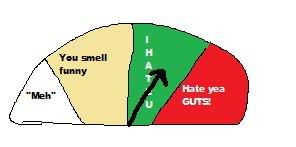 Obi has taken a lot of heat as of late for his terrible tackling, awful angles and many
other blunders. Obi does and should feel some hate, he has taken a step back in many area's.
You would think by year three he maybe it would start to click for him. I will say having three different
defense coaches in three years can't help and maybe the reason for his step backwards. Right now
he reminds me a lot of Prescott Burgess. We are all waiting for the potential to come out.
The Hate-o-Meter is high right now for Obi and rightfully so.
3.
David Moosman
You know that kid that smells in elementary school?
You don't hate him but you have some dislike for him. That's David Moosman.
Moosman wouldn't even be near this list if wasn't for his Indi center performance.
We all watched in horror has one drive after another was killed from bad snaps. Fans watching
snaps flying over QBs heads does not help you and he could fall off this list if he makes
4

.

D

arryl Stonum

Stonum was higher on this list before we knew of his kick return
skills. The reason he was getting heat was due to rumors of bad attitude and wondering
if he would ever live up to his ranking. He has made jumps as a WR and should get
better but still has some ways to go to get into fans good graces.