8:14 AM
The Shredder , Posted in
Hate Hate Hate
,
0 Comments
I got out the old hate-o-meter to see who fans are hating on at this point in time.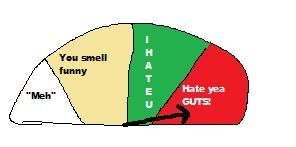 1.Boubacar Cissoko
Still sitting at number 1. I think after being suspended until further notice just
throws more gas on the fire for Boo. Weather it's grades,attitude,performance or whatever he needs to step up big time. I think it maybe a combo of all those mentioned above and basically from what I understand he needs to get his head out of his ass. Good luck Boo, I will be rooting for you to pull through and not throw in the towel. We need you buddy.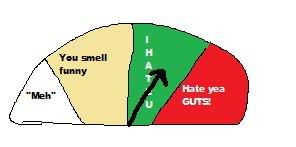 2.Rich Rod
I think he took his first heat from the true fan base who supports him 100%. Even Brian at MGOBLOG had a "WTF" with pulling Forcier on the final drive as did I. We both have had RR back since he has been in AA. I said it after the game and I say it now. YOU PLAY REGGIE MILLER WITH THE LAST SHOT OF THE GAME! I think RR can get off this list quick with a win vs PSU which is looking more and more likely. For the record I got your back Rich.



3.Obi Ezeh
Obi has dropped down on the hate-0-meter but still has a long way to go on the field. He isn't there yet but hasn't been making the mistakes he was earlier in the year. He maybe off this list by the end of the season. I hope..



4.Mike Williams
Safety has not been a strong part for Michigan in about 8-10 years. Not much has changed. Mike struggled a lot playing Iowa. He gave u a 3rd and 24 and was burned on the TE 1997 UM money play twice. I just chalking this up to a bad game and hope the young player can get his Mojo back. Stonum fell off this list fast and Mike can too.