12:57 PM
The Shredder , Posted in
Shredders Top 15
,
0 Comments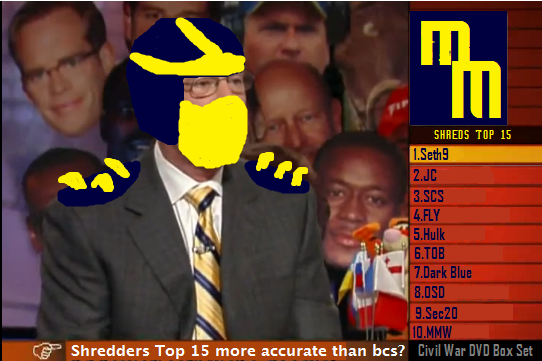 11.TLP
12.Jamiemac
13.Chi
14.Coward Dean
15.Tater

Others Receiving Votes-NBL,CPS,Cwood,Jen

The Shake Down

A big week with a bunch of WLA people joining the fray. Seth9's Expansion posts have been great and it's where I go to get the latest of this mega conference mess. JC keeps bringing awesome news and recruiting every night(don't be scared to post this stuff). SCS has been keeping the weekend oil lamp lit and I give much thanks. Fly moves up to four and becomes a man. Hulk still watching LOST and running to the Store at 2am in the morning. TOB like JC feeds us the goods. Dark Blue the Bulls don't suck. OSD makes a jump for odd youtubes that you don't wanna see but can't help but watch. Sec20 makes his comments than lurks and than comments and repeat. MMW hanging on by a CBOX thread. WLA also on the move.

This Top 15 is brought to you but the MM Civil War five disc DVD box set. Get all the history in one great package! Operators standing by!