4:50 PM
The Shredder , Posted in
Shredders Top 15
,
0 Comments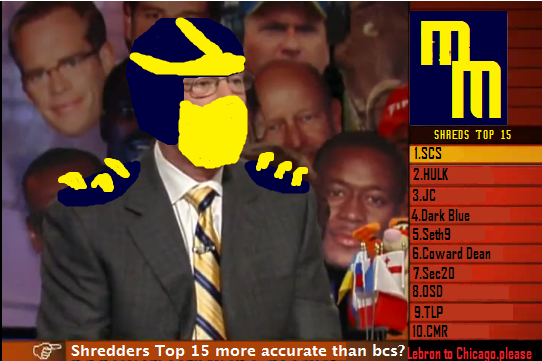 11.TOB
12.Fly
13.MMW
14.Jen
15.CPS

Others Receiving Votes-ilurk,NBL,Chi,irish

The Shake Down

SCS summer of loves continues with World Cup and setting up Live Blogs. Hulk at his highest ranking since the very first rankings. JC brings us the goods even in the dead of the off season. Dark Blue brings news that we are a top 15 Michigan Blog... which is hard to take serious with out the mother ship at the top of the list(OR ON IT AT ALL). Seth9 survived all the storms and is back. Coward Dean proving his worth with live blog appearances. Sec20 hangs on with witty stuff as always. OSD.. bizarre...youtubes. TLP blows some minds with info stating MM came from nothing. CMR and Mr.Dean fight it out for rookie of the month.

This Top 15 is brought to by Lebrontochicago.please July 1st is coming fast.