11:02 PM
The Shredder , Posted in
M basketball
,
Mens Hoops
,
novak
,
0 Comments
It's a pretty dumb title but Michigan State fans seem to love that dumb movie and use it all the time now(dumb arena sounds: SPARTANS WHAT IS YOUR PROFESSION? AWWWWOOOOOOO AWWWWWWWOOOOOO!). I always wonder what they would do if that movie was never made. They might use that extra time making fun of Novak more than they do now. From RCMB Post Novak owning MSU:


I seriously can't remember wanting to punch someone in the face as much as I do this little twerp.

He's a cheap shot artist who undercuts people, a flopper and a constant whiner to officials

The fact we are losing to these clowns is embarrassing. Novak is a joke. That program is a joke.
That's just the tip of the ice burg of the hatred that the MSU fans and that disgrace of board have for Novak. You would have figured after Novak burns you for six three pointers and a win at BC you might give the kid his due. You might wanna give him some respect. He hustled more than your whole team put together. He showed more heart all night than any Spartan could muster. Every Big Ten coach would want this kid on their team. Even the almighty Izzo.
Last year after Michigan got ran off the court in Lansing
I said Michigan brings Nurf swords to this fight while MSU brings real swords.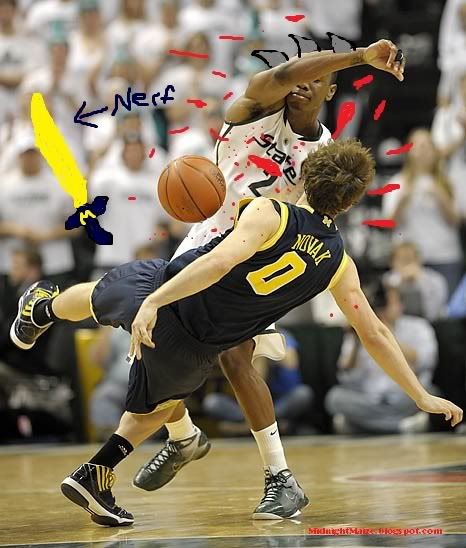 This year we were the team to bring the real swords. Novak didn't back down and neither did this team. Watching the young guys for MSU and watching the young guys for Michigan gave me good confidence for Michigan going forward. Outside of Appling the other young kids look scared on the court while Michigan's feel right at home. I think Izzos tough cold coaching can hold some freshman back from having good first years. Even the 2nd year man Nix still looks a bit scared out on the court. If I had my choice between Nix or Horford... I take Horford every time. Michigan looks fresh with a bright future while MSU looks lost. I am not saying MSU won't be good going forward but Michigan is inching closer to them.
In fact many of MSU players look like they are just sick of playing at MSU. Summers spends most his nights sitting on the three point line refusing to drive to the basket and tuning out Izzo while Devon Roe looks like the same player he was when he got there. Lucas maybe the only guy thats left of the elders who wanna keep pushing on. The latest to be kicked from the team Korie Lucious looked to do his own thing most the time and said screw everyone else. They all seem to think they are first round NBA guys and they are not.
Michigan will move on to play Iowa and I hope win but you never know with this young team and Novak will continue to push this team to get better while Michigan State will play under the pressure with maybe playing in a NIT this year(OMG the world might end!) but I think in the end they will do enough to make it into the field of 68. Say what you want about Novak and the rest of the fellas out of A2 but they just kicked your ass for the better part of 40 mins. Maybe you will respect our guys next time.
Update: Michigan beat Iowa and Novak continues to be hot. OSU next.... eehh
Update II: MSU beats Indiana by a hair. MSU is lucky a small white dude from Indiana dribbled out 20 secs of clock to only end up getting pancaked by Green for a loss.