11:34 AM
The Shredder , Posted in
2010 RBs
,
2 Comments
Who will be our starting running back come UCONN? Michigan has a stable of young and capable running backs who could break out. We could have a running back by committee but that's sorta boring in my eyes. I love you B.Minor but we haven't had that stud Michigan RB since Mike Hart. Minor could have been but he was hurt too much and being made of glass isn't a Michigan running back trait. I think for Michigan to have the season we all want them to have, someone needs to break out of the pack as that stud Michigan back. Lets take a look...

Michael Shaw




Shaw now a Jr has had his highlights(08 Minn game) and low lights(passed on the depth chart by V.Smith). I like Shaw a lot. More then most. Some fans have written him off in favor of V.Smith and Fitzgerald Toussaint. I on the other hand think Shaw can become that stud we have wanted since Mike Hart. I love his power for how small he is. He seems to explode into holes,LB and everything else. He may lack a bit of vision but I am hoping by year three he can make strides in this area. A big part will be if Tate can improve his zone reads and get Michael Shaw the ball at the right times. You also gotta love Shaw's passion as you can see how much he hates to loose(He was the kid on the bench tore up after Iowa). Don't give up on Michael Shaw everyone.. He may surprise you.

Vincent Smith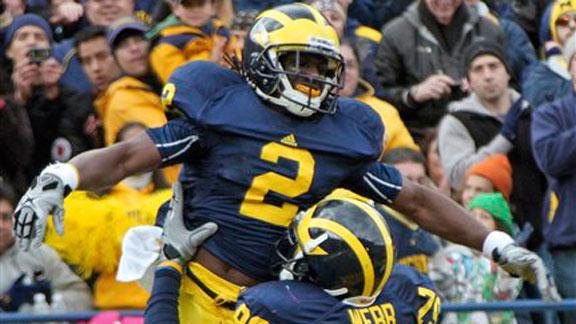 The true frosh showed a lot of guts last year and played well in the OSU game. Here's the catch going into 2010. He got injured. He will be coming back from a torn ACL. It could stunt his growth going into year two. On the flip side, how could you not love Smith? He is most like Mike Hart. He's got great vision and can move the chains. He also pass blocks very well and catches out of the back field like a champ. He was one of the few to show up in the Wisky game. Smith is the slowest of the RBs. He may even be slower then Mike Hart but... He's a RB who just moves the chains. I will take that any day over the home run threat. It will be interesting to see how he bounces back from his injury. He maybe the number one come UCONN.

Mike Cox




Mike is that wild card that I like. He maybe our next banger if given a chance. He has shown a lot in little chances. Sure most have been vs The Washington Generals football team but I expect him to get a fair chance to be in the mix. I hope Mike gets a fair chance because he could turn out to be better then we all know. If his RB gig doesn't turn out he can always turn to his modeling.

Fitzgerald Toussaint




If Mike Cox is a wild card then what is Fitz? Right now he is a practice hype machine. Some have said "FITZ WILL BE THE STARTER BY GAME FOUR OMG!!". There has been so much crap to come out of UM practices over the years that I don't buy it until I see it. He has yet to take a game snap and some have placed him as our number one back. I am a show me person. Running backs coach Fred Jackson who hypes someone every year has done that with Fitz.


"He's a good player," Jackson said. "I've seen enough. I didn't have my blinders on."
Alright maybe this isn't a ton of hype but many people on the boards have added to his hype. I know he can be good and I hope he is but I just wanna see it.
As for the new kids Austin White and Stephen Hopkins. I don't see them getting snaps unless one comes out of no where and shows some great stuff in the spring and fall.
So who is the our starting back come fall and vs UCONN? If I had to guess right now I say Shaw shows and does enough to be that starter come game one. It won't be by much and will have to show a lot to keep his starting job for the first three games.