12:46 AM
The Shredder , Posted in
Inside the game
,
1 Comment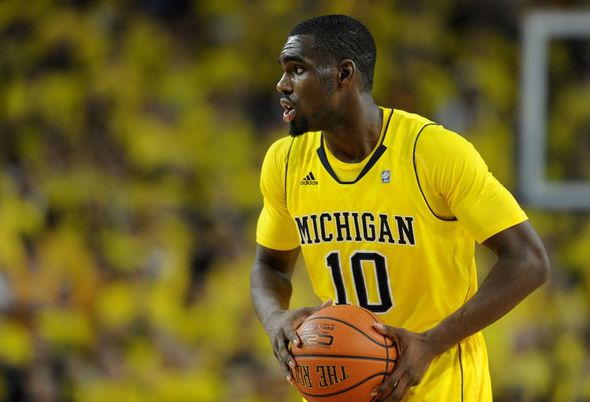 Its a good as time as any to dive into THJ game. He just scored 25 points vs The fighting Webers on 7 shots which in the basketball world we call "efficient". It was what everyone was waiting for after THJ blew up in his Frosh year. I really was hoping he would come back this season with some better dribbling and become better at attacking the hoop. I wasn't really looking at him as a "star" like many were. He did improve on his dribbling and attacking the hoop but still not at the level it needs to be.
Height: 6'6"
Weight: 200lbs
His game reminds me of: Glenn Rice but more streaky
Strengths
A thing of beauty
-Length and NBA size
-Good rebounding for a guard when his head is right
-Shooting when his head is right
-Dribbling to his right and pulling up.
-Finishes well at the hoop
-Intensity
THJ has a great NBA body. He would be a two guard at the next level and has what teams want in size and length. When Tim gets open looks and his head is screwed on straight he can flat out fill it. His form is a thing of beauty from a purest stand point. Some people wonder if its a mechanical issue with his struggles this year but from what I can see its not. Its all up stairs. His follow through and form is pretty much perfect on all accounts and will be teaching kids how to shoot a basketball well into 60s at basketball camps. When THJ wants to and things are going well in the game he can really rebound well for a guard. Its just a matter of how the game is going for him. As you saw vs Illinois when things are going well he really hits the boards which is what Michigan needs badly at times.
Something Tim doesn't do enough is use his shot fake dribble to his right and jump shot from 15 feet. When he does do this it has pretty good results. But in his defense I don't think Michigan runs enough things for THJ off the ball to get these kinds of looks for him. After watching the Memphis and UCLA games again from earlier in the year, Michigan made more efforts to get Tim these looks off from curls, stagger screens ect.
When THJ gets to the hoop he can really finish well. He surprises me at times with some dunks I think are going to be lay ins. He has shown to be able to finish in traffic and draw fouls. It would be nice to see him go to this more when the shots are not falling.
I think his intensity is a plus but can a negative at times.
His dad played with the same intensity.
The problem comes in when getting to high or to low. When he is right where he needs to be he seems like good leader and gets the crowd going pretty well. You will see a lot of chest thumping from him or jumping straight up in the air when Stu Douglas is throwing down slams in the NCAA tourney. He wears his emotion on his sleeve for sure.
Weakness
-Mental game
-On the ball defense
-Help defense
-Dribbling
Its the part of his game that reared it ugly head this season when the shots didn't fall. The metal game. THJ gets worse with every miss. He can't forget the misses. They just build on him. Before you know it he is slumping his shoulders, not playing defense or rebounding and jacking bad shots trying to shoot himself out of it. He just needs to learn to keep his emotion in check and move on to the next play. He lets it effect every part of his game and its a major knock. NBA scouts have and will take notice of this. Lets hope some growth and maturity helps this next year(or just shooting better). THJ is pretty lucky there is no one with a pulse on the bench.
The weird thing about THJ game is that he is a terrible dribbler.
His dad was one of the best in NBA history
yet he struggles with it. THJ really struggles on the break when it isn't a simple one on two break. He always pulls up since he doesn't want to dribble into the teeth of any defense. I think his dribbling is a major factor on him not attacking the hoop more. If he has to do more then right handed power dribble then he has high % of coughing up the ball. He never going to be great at it but it can get better. His on the ball and help defense can be alright at times but when the shots are off he is pretty bad. I swear I've watched him let teams have free layups and dunks when he could have rotated over for either a foul or charge. He just goes into watch mode when he hits a funk. On the ball is a struggle for him at times. His feet are a bit slow at taking away the driving lane. His height does help challenge shots but for the most part he is a average defender.
Conclusion
Tim Hardaway Jr is very good player but isn't the star people want him to be. Is he one hell of a 2nd or 3rd option? Hell yes. He made a living his freshmen year off of Morris sucking defenses inside the arc which opened his 3pt looks and teams not having much of a scouting report on him. I think Tim felt the pressure of being the "man" and has pressed himself when shots haven't fell. I just see him as a good spot of shooter and a good but not great athlete who can finish at the hoop. After his great year last year, people put the world on him.
Letting the game come to him would be ideal instead of jacking contested 3 balls. Trying to get to the hoop and coach B running more curls,screens and pick pops for him would help as well. I also think him playing for team USA maybe leading to some of his problems on the court. Its just been a really long season for him. With some post presence next year from Mcgary and GR III skills to get to the hoop that should open up the 3pt line for Hardaway and get him back on track.
In no way Tim Hardaway should leave for the draft. His mental game just needs a lot of work, along with his defense and shot selection. Another year at Michigan will help and as of right now he is isn't first rounder. Not dressing on a NBA roster or not having a guaranteed contract isn't a good reason to leave. I expect him to really bounce back next year and play off the new talent.